Guidance to Authors
The British Journal of Medical Practitioners (BJMP) has adapted an Open-access, Continuous Publication Model and intends to keep it free to use for the end user. The British Journal of Medical Practitioners (BJMP) publishes original research, review articles, case reports, letters to editor, responses to articles, articles about health policy / health politics / medical ethics and law, medical images, health related news and also consider opinion pieces dealing with matters relevant to everyday clinical practice and management.
BJMP will mainly focus on review articles to highlight and consolidate clinical evidence in various clinical topics. The primary purpose of the journal is to disseminate information and knowledge that will primarily be of benefit to General Practioners and Junior Trainees of the different specialties.
______________________________________________________________
Peer Review Process
BJMP believes in unbiased, independent, critical assessment is an intrinsic part of all scholarly work, including the scientific process. Peer review is the critical assessment of manuscripts submitted to journals by experts who are not part of the editorial staff.
All submitted articles are peer reviewed.
Editorials and solicited review articles are internally reviewed by an expert in the field.
Articles are intially screened by the editorial staff for suitability and adherence to following outlined guidlines about the formate. Accepted articles are then peer reviewed by independent experts
Articles are peer reviewed by the independent peer reviewers in their areas of expertise
Final decision about the acceptance and refusal of the article for the publication will be taken by the editors
No person will be involved in the peer review process of an article in which they have a direct or indirect conflict of interest.
BJMP follows "Uniform Requirements for Manuscripts (URM) Submitted to Biomedical Journals" produced by The International Committee of Medical Journal Editors (ICMJE), in review and publication process. Please visit the link www.icmje.org for details about the URM.
We welcome any further suggestions or inquiry using the "Contact Us" link above.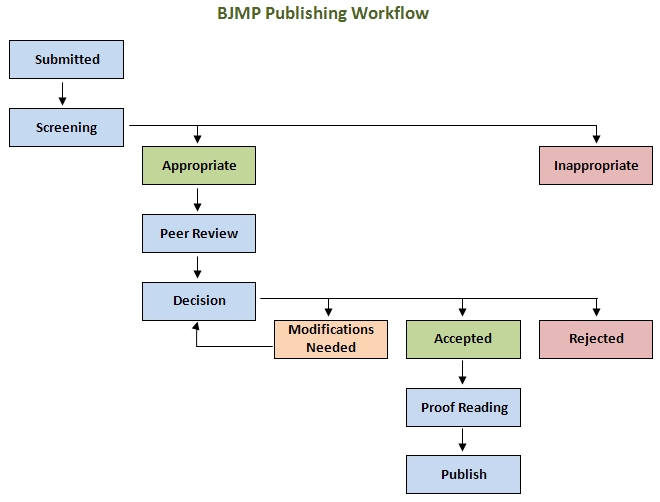 ______________________________________________________________
How to Submit a Paper
Use the "Submit Manuscript" link above to submit your articles for publication.
Please include a name, postal address, telephone number and a email address for correspondence
Articles should be attached as a Word document (.doc). If this is not possible, please attach the document in Rich Text Format (.rtf)
Research Articles should be no more than 3500 words in IMRaD format (Introduction, Methods, Results and Discussion)
In general, review articles should be approximately 2500-3500 words
Comments and Case Reports should be approximately 1000-1200 words
Editorials should be between 800-1200 words long
Book and film reviews should be between 300-350 words long
Title
The title of the article should be approximately 10-15 words (this may be changed with the authors' approval).

Authors
The full names, qualifications, affiliations, details of position/place of work of all authors should be listed at the beginning of the article.

Article Word Counts
Longer papers are likely to be returned to the authors for editing before being sent to the editorial board.

Figures and Tables
Figures/Tables are welcomed, and should be cited within the text and listed at the end of the document or sent as separate file/files. JPG or TIFF format is preferred for photos. For other artwork or patient group logos, a high resolution tiff or jpeg files are preferred.

Miscellaneous
Use English spellings and SI units.
Use proprietary drug names only (no brand names)
Abbreviations should be kept to a minimum

Specific Article Types
Research Articles: The article should be no more than 3500 words in IMRaD (Introduction, Methods, Results and Discussion) format and should include a structured abstract of 200–300 words (headings to include aims, method, results and conclusions)
Review Articles: Review articles should typically be around 2500-3500 words (excluding text in boxes, figures and the references) and provide a clear, up to date account of the topic, preferably aimed at non-specialist hospital doctors, family physicians and candidates for postgraduate examinations. Please ensure your article includes an abstract of about 150 words. Please use subheadings, illustrations and a text box of 4-6 important summary points.
Editorials: Most of the editorials in BJMP are solicited by the members of the editorial board. However, we will be happy to consider unsolicited editorials. Unsolicited editorials will also go through peer review. Editorials should be up to 800 -1200 words long with no more than 15 references.
Case Reports and Series: These papers describe, in 1000-2000 words, a single interesting case or a small series of cases, which are interesting and provides a learning experience. It will be preferable if illustrations or images can be provided. Consent for publication must be obtained from the patient, if by any images or details in the report; it will be possible to identify the patient.
Education and Training articles: This

section will include articles related to training and education in the UK which

may include clinical vignettes with

answers,

articles related to royal college membership exams and training, issues and controversies related to education and training in the UK. We may also include articles from outside the UK if their are broader educational values

highlighted in the article.Articles should not be more than 2000 words with maximum 15 references.
Medicine in Pictures: Clinical pictures of an educational value(e.g., a skin rash, radiographs, sonograms, CT scan, MRI and ECGs, etc..). will be considered if they are accompanied by a brief text which includes the following: 1) title, 2) introduction paragraph presenting the clinical scenario, 3) a question with one correct and three incorrect answers, 4) list of differential diagnosis 5) discussion of correct answer and 6) brief explanation of incorrect answers. Authors must obtain signed informed consent from the patient.
Clinical Practice

: articles focus on the assessment and management of the common clinical conditions encountered in the primary care. They should be less than 3000 words, use Tables/figures, maximum number of references 15(approximately) and highlight any guidelines(e.g. NICE, Royal college). Article should use following heading in the structure of the article 1. General Information: 2. Incidence/Prevalence: 3. Causes and Risk Factors: 4.History/symptoms: 5. Review of Systems (ROS): 6. Physical/signs: 7.Other diagnosis to consider/rule out: 8.Investigations/Testing to consider: Imaging studies: Pathology tests: Other diagnostic testing: 9.Treatment Activity: Medications: Nonpharmacological:Consultation and referral: Other management: 10. When to consider hospitalization: 11.Follow-up: 12.Prevention and Screening: 13.Guidelines: ( NICE guidelines etc if applicable): 14. Patient Information e.g. websites: 15. References

Humanities and Medicine:

The Humanities section will publish book reviews, art, poetry, photography, philosophy and history of medicine. Poems related to the medical experience, whether from the point of view of a health care worker or patient, or simply an observer, will be considered. Poems should be original, not previously published or under consideration elsewhere. Authors may submit multiple poems to BJMP simultaneously. Patient confidentiality must be respected; patient consent obtained from all patients who could identify themselves should they read your article. In general, prose manuscripts should be limited to 800 words and poems to no more than 80 lines. Photography submissions are welcome, as are brief, illustrated items on unexplored corners of medical history.
References
References3 should be numbered in superscript in the text (after punctuation) and listed at the end of the document in Vancouver style (first three authors only)6
e.g.
3. Surname AB, Surname CD. Article title. Journal abbreviation. Year;Vol:Start page-End page.
6. Blair T, Brown G, Bush G, et al. Recent Advances in Great Britain. Br J Medicine 2004;121:378-384.
______________________________________________________________
Editorial policies and procedures:
BJMP follows the the recommendations and guidelines of the following organisation to inform its policies and procedures:
International Committee of Medical Journal Editors (http://www.icmje.org) - Recommendations for the Conduct, Reporting, Editing, and Publication of Scholarly work in Medical Journals.
World Association of Medical Editors (http://www.wame.org) - Recommendations on Publication Ethics Policies for Medical Journals
Committee on Publication Ethics - (http://publicationethics.org)

Codes of Conduct and Best Practice Guidelines, International standards for editors and authors, Guidelines and flowcharts to address disputes.
Ethical Issues: Human & Animal Rights
When reporting experiments on human subjects, authors should indicate whether the procedures followed were in accordance with the ethical standards of the responsible committee on human experimentation (institutional and national) and with the Helsinki Declaration of 1975, as revised in 2000 (5). If doubt exists whether the research was conducted in accordance with the Helsinki Declaration, the authors must explain the rationale for their approach, and demonstrate that the institutional review body explicitly approved the doubtful aspects of the study. When reporting experiments on animals, authors will be asked to indicate whether the institutional and national guide for the care and use of laboratory animals was followed.
In tune with most Medical Journals, British Journal of Medical Practitioners, as a policy, never publishes animal studies, lab based research or research purely in healthy subjects.
Patient Consent:
Patients have a right to privacy that should not be infringed without informed consent. Identifying information, including patients' names, initials, or hospital numbers, should not be published in written descriptions, photographs, and pedigrees unless the information is essential for scientific purposes and the patient (or parent or guardian) gives written informed consent for publication. Informed consent for this purpose requires that a patient who is identifiable be shown the manuscript to be published. Authors should identify Individuals who provide writing assistance and disclose the funding source for this assistance. Identifying details should be omitted if they are not essential. Complete anonymity is difficult to achieve, however, and informed consent should be obtained if there is any doubt. For example, masking the eye region in photographs of patients is inadequate protection of anonymity. If identifying characteristics are altered to protect anonymity, such as in genetic pedigrees, authors should provide assurance that alterations do not distort scientific meaning and editors should so note.
Conflict of Interest:
All submissions to the British Journal of Medical Practitioners (including editorials and letters to the Editor) require a declaration of interest. This should list fees and grants from, employment by, consultancy for, shared ownership in, or any close relationship with, an organisation whose interests, financial or otherwise, may be affected by the publication of the paper. This pertains to all the authors of the study.
Disclosures:
If written by multiple authors, identify a "Corresponding Author" who can submit the paper and liaise with the Editorial Board. As part of the article submission process, you will be asked to comment on the following and you will not be able to progress otherwise.
Copyright: The Corresponding Author will have to confirm that he/she has the right to assign on behalf of all authors and assigns on behalf of all authors, the copyright of the article to JMN Medical Education Ltd.
License to publish: The Corresponding Author will have to confirm that he/she has the right to grant on behalf of all authors, and grants on behalf of all authors, an exclusive licence on a worldwide basis to the JMN Medical Education Ltd to publish their article in the BJMP.
Plagarism: You will have to confirm that the paper is your original work and that you have provided appropriate references and credit where it is due.
Submission: You will have to confirm that you have not submitted the article for publication elsewhere
Ethics Issues: With studies that needed approval by the Ethics Committee, please confirm that it was obtained.
Consent Issues: With respect to articles needing consent of the patient, please confirm that you have gained the consent of the patient to publish details about their case.
Declaration of Interests: A Declaration of Interest must be given and should list fees and grants from, employment by, consultancy for, shared ownership in, or any close relationship with, an organisation whose interests, financial or otherwise, may be affected by the publication of your paper
Disclaimer: You will have to confirm that you have read and agree with the disclaimer.
______________________________________________________________